Connected Texture Pack For MCPE 1.18
Minecraft Bedrock can be pretty limiting in terms of what types of designs and decorations we can implement into our worlds. Addons are a good work around but are typically more complicated to use and can be a hassle to instead the resource pack and behavior pack. However, this Minecraft texture pack allows us to add realism and decorations into our worlds through connected textures. This is a simple to use texture pack for Minecraft Bedrock edition and takes around 92 megabytes worth of storage which is relatively high for a Minecraft Bedrock Edition texture pack. However, it is definitely worth the storage.
The connected textures allow for a smoother and more realistic transition from one block type to another. This can be useful in city worlds where we would want to transition from a sidewalk which could be created by cobblestone to a grassy surface such as a field. You can even create pathways and other unique patterns from this texture pack. This texture pack could be used to decorate a modern house, survival worlds, parks, cities, etc.
In addition to the unique connected textures we also get extremely detailed textures. This pack comes in a 256 by 256 version which means that for every block there are over 65,536 pixels included in the texture. This means there are a lot of details in every block. All the textures have shadows and lighting to them to make them feel 3d and almost like there are images from outside!
HOW TO GET THE CONNECTED TEXTURES:
The terracotta blocks and textures are replaced with the new connected textures. There are over 10 variations of connected textures that include transitions to blocks such as sand to stone, grass to sand, grass to sand, stone to wood, wood to sand, wood to grass, etc. There are also different designs. There is a corner connected texture, a vertical connected texture, horizontal connected texture, a patch of a certain material in the center being surrounded by another. All of these textures are also made to be incredibly realistic and some of the textures even look photo realistic. Best of all, these connected textures can change depending on what angle you place the block in. They can all be crafted in survival mode via smelting clay.
MODERN TEXTURES: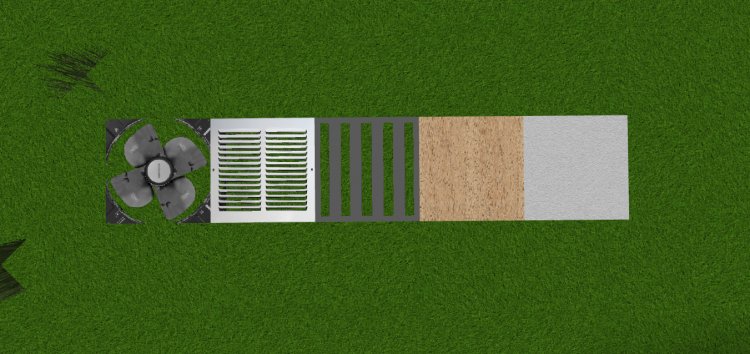 This texture is catered to those with modern styles worlds as shown by the trap doors of this texture pack. The trap doors are completely redesigned to fit in a modern city such as an industrial fan, air vents, and floor tiling. Just like the connected textures, these textures can be crafted in survival mode using the same materials as you would for a normal trap door.
REALISTIC FOODS:
A minor but neat detail of this texture pack is the photo realistic food textures. The foods are extremely detailed. One major issue of these realistic food texture is performance issues. These textures can cause significant lag and crash lower end devices. These textures are magnificent to look at! We recommend using them as decorations and hanging them up using item frames.
REALISTIC WOOD: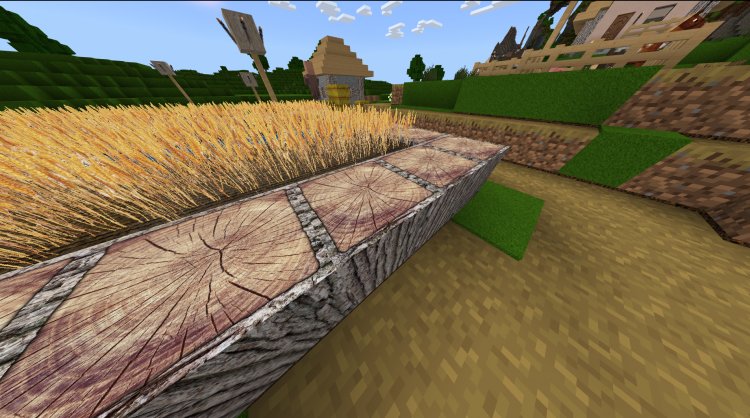 One of this client's biggests strengths has to be its realistic wood textures. In every wood surface, we are able to see intricate shadows and a large amount of colors. These textures are vibrant and plain stunning to look at! Wood is one of the most commonly used blocks in Minecraft as it is easily available and can be used for dozens of purposes. This will be one of the realistic textures you will notice when loading to a world with this texture pack on.
SHADER AND TEXTURE PACK COMBO:
Want to make this texture pack feel even more realistic than it already does? Consider using this texture combined with a shader pack. Shader packs will provide realistic and brighter lighting with shadows and at times reflections. Feel free to check out our catalog of shaders in this very website here.
CREDITS:
This texture pack was created by Azapz who has created some of the most realistic texture packs for all of Minecraft Bedrock Edition. He has been working on this amazing texture pack since 2020 and has been updating it ever since. Azapz has made some other texture packs as well and has an impressive catalog of texture packs.
REVIEW & CONCLUSION:
This is a perfect texture pack for Minecraft Bedrock edition. It is realistic and the process to download it is simple. This texture pack would have to get a 10/10 for its outstanding features and the effort put into this texture pack.