Furnicraft Addon For MCPE & How To Download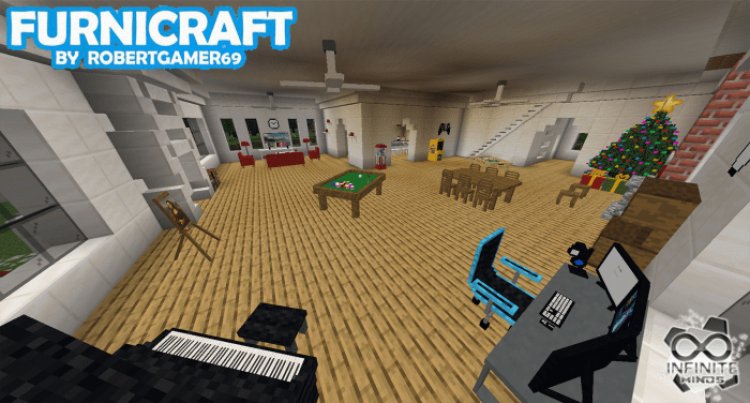 Furnicraft was one of the first Minecraft Bedrock Edition add-ons that added furniture to the game. It has been around since 2018 and is consistently being updated to this very day. At times it can be a struggle to keep up with all the extensive features this addon includes so in this post we plan to simplify everything so anyone who is new to the space can understand what furnicraft is and what it offers.
It is public record that Minecraft will never offer furniture as part of any future update. Many speculate that this decision was made to force players to think outside of the box and use Minecraft's pre-existing blocks to construct furniture of their own. This would encourage creativity and prevent Minecraft from being a convoluted mess in terms of features. Thankfully, we have mods such as these that add proper furniture to Minecraft.
Furnicraft adds thousands of structures to the game modeled after everyday furniture. The 3D models are extremely detailed and have their own unique animations. All these furniture have their own crafting recipes and are crafted through survival mode. Some of these furniture items can be constructed from basic materials such as wood and cobble stone but others require diamonds and other materials that can be a struggle to obtain.
WHAT FURNITURE DOES THIS ADDON INCLUDE?
This addon has thousands of unique furniture items but here is a list of some of the most well known and polished furniture items. Keep in mind there is always new furniture being added so this list is subject to change and we will update it accordingly.
- Chairs (in all wood and stone variations)
- Beds (in all wool colors)
- Couches (in all wood variations)
- TV's (both classic and modern flat screen TV's)
- Playground set (Swings, slides, wheels, park benches, etc)
- Christmas decorations (christmas tree, stockings, gingerbread houses, christmas lights, fireplaces, etc)
- Lamps
- Tables
- Gaming gear (gaming chair, triple monitor setup, PC, laptop, phone, keyboard, mouse)
- Ceiling fans
- Kitchen utensils (stoves, microwaves, sink, fridge, forks, spoons, blenders, etc)
- Food (pizzas, waffles, toast, fries, etc)
- Piano
- Bubble gum machine (small and big)
- Halloween decorations (cobwebs, skeletons, coffins, graves, scare crows, etc)
- Washing machines
- Bathtub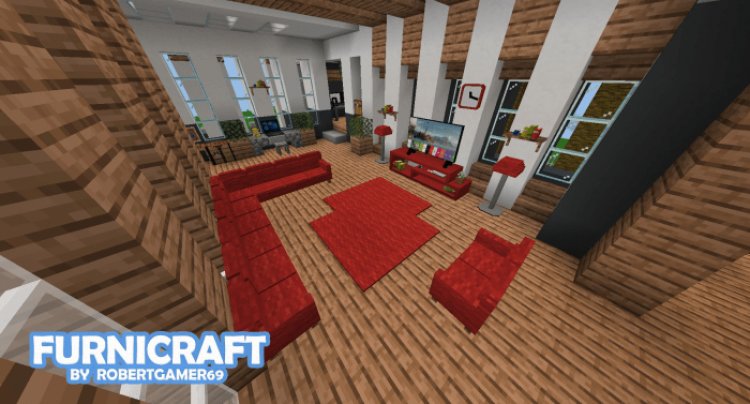 Each of these items are extremely detailed and could easily make any world much better. These items can be useful in survival worlds and especially city worlds.
HOW TO CRAFT THE FURNITURE
To craft the furniture you will need to construct a special table that will enable you to craft all these items. You will need 1 piece of clay, 1 green dye that can be harvested from cactus and 1 red dye that can be harvested from rose flowers. Then arrange the items in the following orientation: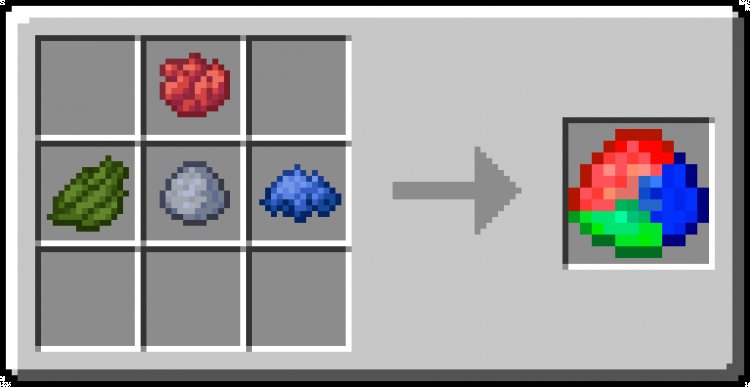 Once you have constructed this item combine it with a crafting table and then you should be good to go.
ROSE GOLD TOOLS
Not only does this addon add furniture but also a new material that can be crafted to armor and tools. Rose Gold can be found naturally in caves and in chests that can be located in temples. There is even a rose gold apple that provides healthing effects and resistance. The tools that can be crafted include helmets, shovels, axes, chest plates, swords, pickaxes, leggings, boots, hoes, rose gold apples, etc.
HOW TO DOWNLOAD
This addon has been seen by millions and some may not be familiar with the downloading process for this addon. This add-on requires you to go to the furnicraft website where you can find the downloads to both the resource pack and behavior pack. Be sure to wait 10 seconds for the download to load then import them to Minecraft via a file manager application. Make sure both behavior and resource packs are activated whenever you enter a world. Be sure to turn on experimental gameplay and turn cheats on.
CREDITS
This addon was created by the talented "ROBERTGAMER69" who has been working on this addon for years. He is an incredibly talented addon creator and there are many ways to support him. He has a patreon where supporters can pay a monthly fee for exclusive perks such as early access to future updates of this addon, direct opportunities to provide feedback, pitch ideas, etc. Be sure to check out his YouTube channel here.
CONCLUSION
This addon is a classic and has seen an impressive transformation. It is a must download add-on for anyone in the Minecraft Bedrock Edition space. It has thousands of features and never fails to provide an amazing furniture experience. For that reason, we have to give this add-on a clean 10/10 rating. We will be sure to look out for future updates of this addon and we are very excited to see what features are added next.
DOWNLOAD: https://furnicraftrg69.wixsite.com/home/download-furnicraft-3d-blocks?lang=en