Top 5 Best FPS Boost Clients For MCPE 1.18! - Minecraft Bedrock Edition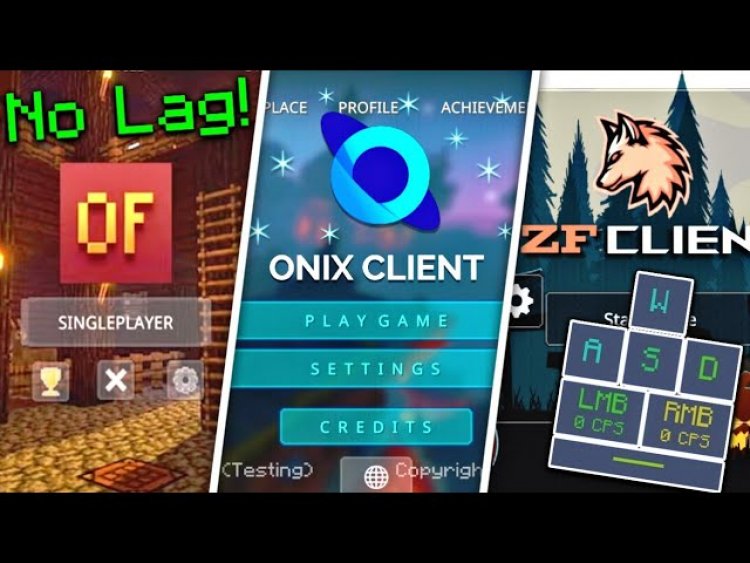 #5 Codebreaker Client
The coebreaker has some of the most unique and smoothest animations out there. The homescreen showcases a pond with a yellow fish in it. It super easy to use and looks stunning. All the buttons are to the left of the menu. This clients comes with new chat settings, highlighted ores, clearly water, etc. The settings are also made to match the theme of the code breaker client. This client manily provides UI changes but is still an amazing client!
DOWNLOAD: https://mcpedl.com/codebreaker-resource-pack-client-v1/
#4 Onix Client UI
This client adds the iconic onix client ui to mobile devices! Currently the Onix client is only for desktop devices of Minecraft Bedrock Edition but this client allows mobile users to now enjoy somewhat of the similar expiernce.
DOWNLOAD: https://www.mediafire.com/file/776aeh6dsd3lzhy/Onix_Client_-_UI_Official.mcpack/file
#3 Tyler's UI Client
This client changes the UI and adds a built in compass and clock to help users in survival mode! There is even a button to the right of the hotbar that allows users to switch between different items on the hotbar!
DOWNLOAD: https://mcpedl.com/the-ty-els-ui-pack/
#2 ZF Client
The ZF client has an amazing UI with a halloween themed homescreen. There pumkins everywhere and overall provides a gloomy, scray mood. This client comes with keystrokes and even a compass at the top of the screen that shows what direction the player is headed in (north, east, south, west). There are even custom cosmetics and a built in compass and clock in the left of the hotbar.
DOWNLOAD: https://www.mediafire.com/file/hdoxxhcd4i7auaf/ZF_CLIENT_v4.mcpack.zip/file
#1 Allay Client
The Allay client is another amazing client for Minecraft Bedrock Edition that enhnaces performace. It gets rid of particles, makes the game smoother and includes an amazing new UI! There is also new cosmetics with a black crown and black wings. There is even a new F1 button that players can press in order to hide the UI. This button can be toggled on and off. There is also a built in compass and clock. The UI is also made to be black and white.
DOWNLOAD: https://mcpedl.com/allay-tweaks/