How To Get TRIAL CHAMBERS For Minecraft Bedrock! (Addon)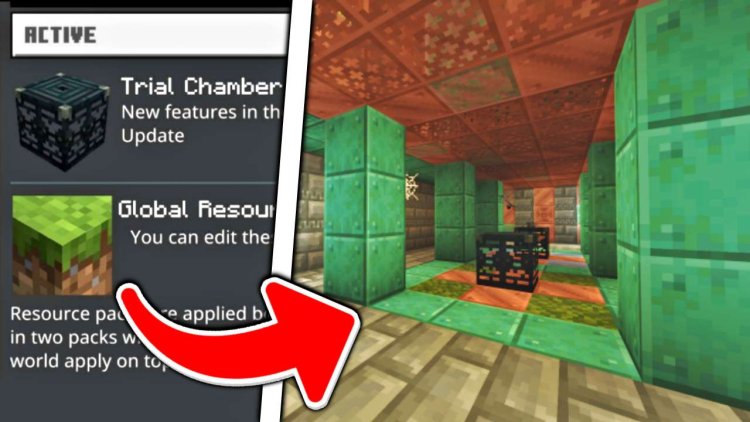 How To Get TRIAL CHAMBERS For Minecraft Bedrock! (Addon)
Minecraft Live 2023 brought a wave of excitement to the Minecraft community, and with it came a myriad of new features that have now found their way into the game through innovative addons. One such addon that has caught our attention is the creation by the talented ITz_DaKs. Today, we delve into the details of this extraordinary Minecraft Bedrock addon, exploring the new elements it introduces and its standout feature – the "Trial Chambers."
Addon Overview:
ITz_DaKs has managed to seamlessly integrate the latest Minecraft Live 2023 features into this addon, enhancing the overall gameplay experience for Bedrock Edition players. The addon introduces a range of new items, mobs, and structures, but the spotlight is on the fascinating "Trial Chambers."
Trial Chambers:
These subterranean structures are a breath of fresh air for Minecraft adventurers. Discovered underground, Trial Chambers offer a unique blend of exploration and player versus player (PvP) challenges. The chambers are thoughtfully designed with intricate details, providing an immersive environment for players to test their skills.
Upon entering a Trial Chamber, players will encounter a series of challenges that span various difficulty levels. From parkour challenges to combat scenarios, each chamber presents a different set of obstacles. The inclusion of PvP challenges adds an extra layer of excitement, allowing players to engage in thrilling battles with friends or foes within these confined spaces.
Credit to ITz_DaKs:
It's essential to recognize the dedication and talent of ITz_DaKs in bringing this addon to the Minecraft Bedrock community. The effort put into seamlessly integrating the new features from Minecraft Live 2023 while maintaining the game's balance is commendable.
Review:
Rating: ⭐⭐⭐⭐⭐ (5/5 stars)
ITz_DaKs' Minecraft Bedrock addon is a stellar addition to the Minecraft experience. The incorporation of features from Minecraft Live 2023, especially the Trial Chambers, elevates the gameplay to new heights. The well-thought-out challenges, combined with the element of PvP, make for an engaging and entertaining experience.
The Trial Chambers not only provide a new dimension to exploration but also offer a platform for players to showcase their skills in a competitive setting. The addon seamlessly integrates with the existing game mechanics, ensuring a smooth and enjoyable transition for players.
In conclusion, ITz_DaKs has not only succeeded in delivering an addon that stays true to the spirit of Minecraft but has also added a fresh and thrilling aspect to the game. Whether you're a seasoned player or a newcomer to the world of Minecraft Bedrock, this addon is a must-try for an enhanced and exhilarating gaming experience.
DOWNLOAD:
BP: https://linkvertise.com/329783/trial-spawner-concept/1
RP: https://linkvertise.com/329783/trial-spawner-concept1/1