FryBry 200k Client For Minecraft Bedrock Edition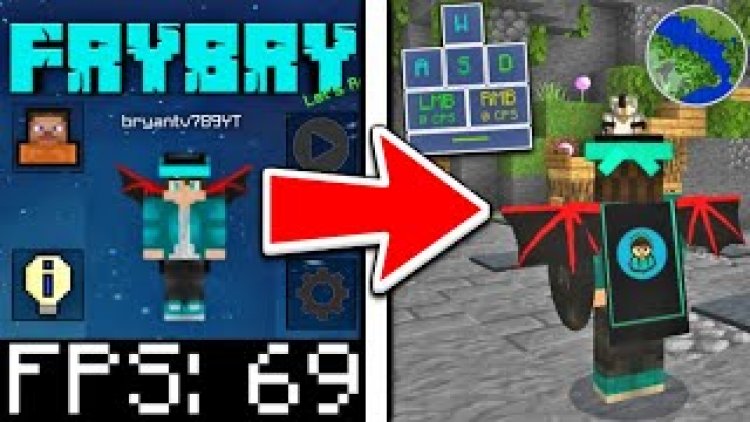 The YouTuber FryBry has just surpassed 200,000 subscribers on YouTube and to celebrate this milestone FryBry and his team made a Minecraft client for the entire Minecraft Bedrock Edition community. This client enhances the Minecraft Bedrock experience by adding many unique features that improves performance, graphics and the user interface. This client will work on any version of Minecraft Bedrock Edition above the 1.18 Caves and Cliffs Part 2 Update. What makes this client unique is that it is a charity client! (more on that later on in the article)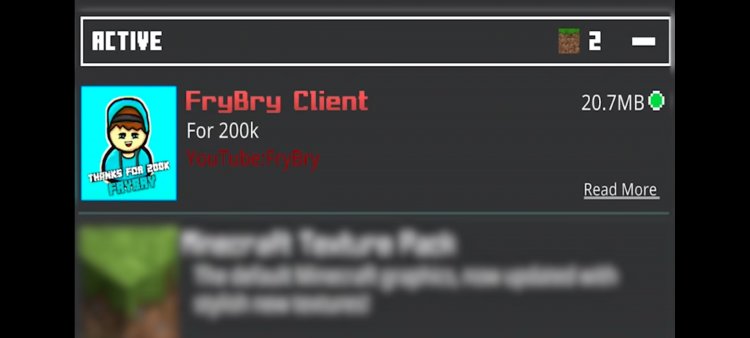 CLIENT FEATURES:
- Keystrokes
- FPS Boost
- Custom Cosmetics
- Built in compass
- New user interface
- Full bright
- Shorter swords
- Highlighted ores
CLIENT HOME SCREEN: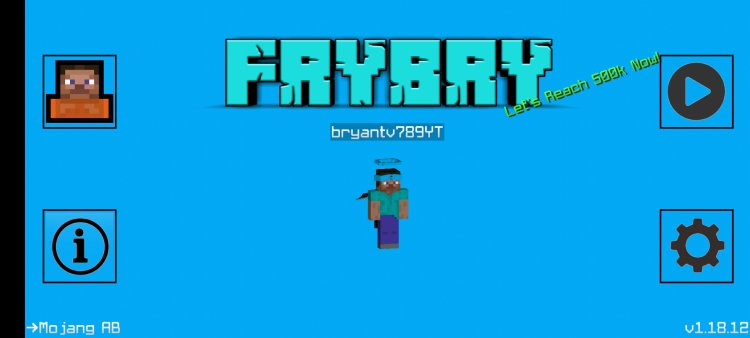 Right after loading in the client you will notice that we have a blue galaxy themed backdrop and a completely rearranged home screen. For starters, all the buttons including the "play" button, the "settings" button, the "information" button and "profile" button. Our player character can be seen in the center of the screen with amazing custom cosmetics. Right above our player character we are able to see text that says "FRYBRY" in a blocky font.
CUSTOM COSMETICS:
The FryBry 200k client is one of the very few clients that includes custom cosmetics. For headgear we have a light blue bandana. Behind the player character we have a custom cape with the FryBry logo on it with a black background and light blue outline. Right next to the cape we also have custom ender dragon themed wings. These wings even have a flapping animation when used in game. Lastly, we have a shield that has incredible detail to it and even a star design in the center of the shield.
KEYSTROKES: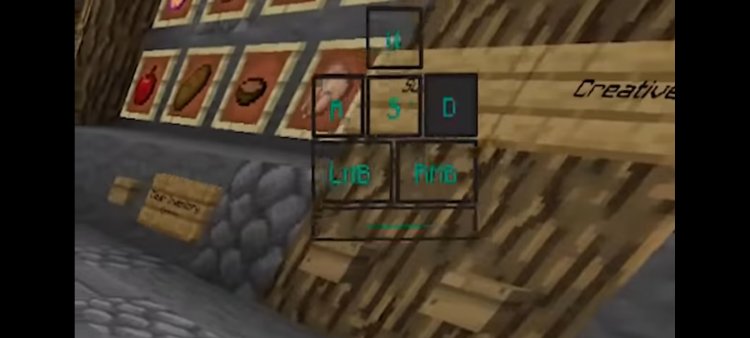 FryBry and his team heard all the requests for keystrokes and they answered those requests. This client has blue and black themed keystrokes that keep track of what buttons have been pressed. These keystrokes move around as we move our screen as well.
COMPASS:
Whenever we sprint when using this client we are able to see a compass system towards the top of the screen. The compass indicates four distinct directions: North, South, East and West. There are numbers as well to indicate whether we are traveling Northwest, Southwest, etc.
NEW CHAT SETTINGS:
This isn't a real client if there aren't new chat settings! Luckily, we have an entirely new chat system in this client that allows us to perform actions that would normally only be possible through a desktop or a console. By pressing the "Prev" button we are able to copy and paste our last chat message and enter it again. This allows people to repeat messages faster and can be useful when communicating with other players in multiplayer games or servers.
NEW SETTINGS:
This client makes the Minecraft Bedrock settings much more easier to navigate through. For starters, the settings are made in a dark theme and even includes a quick settings feature tab that allows players to change their POV, FOV, Hide Hud, Hide hand, etc.
CHARITY:
This client is a charity shader meant to help those who do not have access to stable food. All money made through the download of this client will go directly into the Feeding America charity where $1 donated will provide 10 free meals for families in need. To learn more about the feeding America charity and how it operates, click here.
CREDITS:
This client would have been possible without the amazing team behind it! Thanks to TirupGamerYT and CravingTrack225 who are both independent client creators have worked hard to make this client a reality. These client developers are also responsible for making other amazing clients such as the "TG Client" and the "Fortress Client". To learn more, be sure to check out their YouTube pages!
THANKS:
First off, I want to thank everyone who has ever supported the channel by liking videos, watching videos, subscribing, etc. This client is truly special to me and I am beyond amazed and grateful we are able to raise money for charity while also having fun playing Minecraft Bedrock Edition. YouTube has given me the biggest opportunity of my life and I wake up everyday motivated to work and produce better videos for your support! Feel free to make your own reviews on this client and provide feedback or suggestions. Stay safe everyone, I love you all!