Hive Server Minecraft Bedrock Edition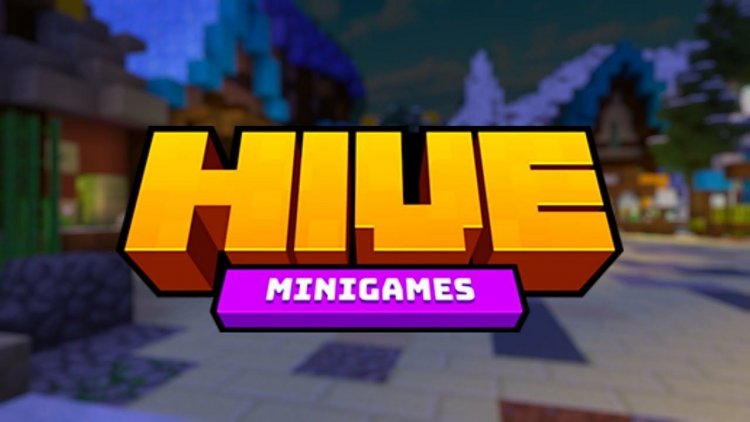 The Hive is one the greatest servers in Minecraft Bedrock Edition. It started as a Java server almost 10 years ago but has found recent success in the Minecraft Bedrock space. The Hive is home to many game modes with custom models, maps, etc. This server is also well known for being the "Hypixel'' of Minecraft Bedrock Edition.
The Hive has many game modes including:
Skywars (solos, duos, trios, squads, mega)
Treasure Wars (solos, duos, trios, squads, mega)
Survival Games (solos and duos)
Hide and Seek
Build Battle
Murder Mystery
Deathrun
The diverse gamemodes ensure you always have something to do on the server. If you are craving some PvP action, consider a gamemode such as Skywars or Treasure wars. On the other hand, if PvP is not your thing, consider other gamemodes such as Murder Mystery, Build Battle, etc.
THE HUB: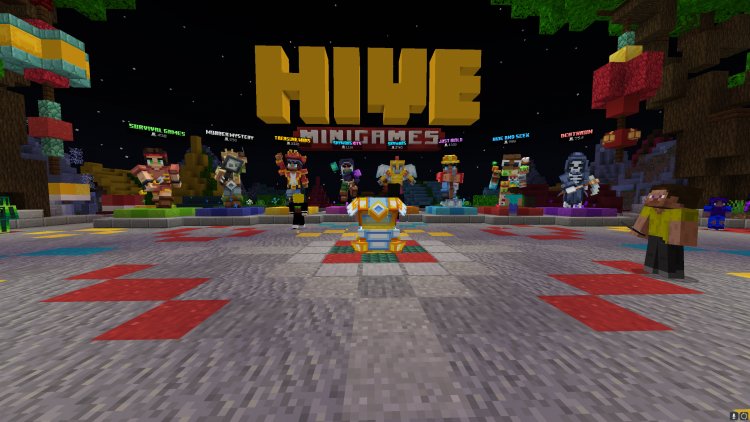 Click on any of those NPC's to join a gamemode. Make sure you check the names of the NPC before pressing one!
SPECIAL RANKS
The Hive is an amazing server due to the fact that they put effort into creating unique and thrilling rewards to those who are dedicated to the server. Some of these ranks include:
Hive Plus - This rank allows you to have an XP boost, have a party size of 8 instead of 4, access to certain kits, etc.
Replay Rank - This rank is perfect for content creators since it allows you to view your previous games in a third person perspective, where you are able to see the other from an infinite amount of angles. This rank is a rather recent addition to the server so there may be some issues or bugs here and there.
YouTuber Rank - This rank is perfect for YouTube creators and includes many unique and premium perks. YouTube rank allows you to have a party space of 12, have your vote count as 3 instead of 1, access to infinite custom servers, access to all costumes, etc. In order to get this rank you will need: 5,000 YouTube subscribers and 3,000 views per video after a few days of posting a video. Getting this rank is for sure a "grind" but is worth the time.
CUSTOM GAMES
The Hive allows you to make your own custom games, with your own rules, perks, etc. Custom games can be accessed when pressing an NPC and scrolling down until the "create custom server" button appears. Custom servers are excellent for getting PvP practice and mastering the game. You are able to invite friends to the game and have them practice with you. You are able to customize a significant amount of the game, including:
Game time
Time of day
Amount of lives (up to 5 lives per person)
Ore density (how much ores spawn in a given world)
Custom teams
REGIONS
This server also takes other areas of the world into consideration apart from just the United States. In this server you are able to switch regions and get placed into servers intended for other areas of the world. This can help prevent lag for some.
There are three regions to pick from: North America, Asia and Europe. Make sure you select the regions that best suit your location in order to get the best experience from the server. All game modes are the same in every region and are intended to help those outside of the United States.
HOW TO JOIN THE HIVE SERVER
Joining the Hive is extremely simple, make sure to login to a Microsoft account and go the "servers" tab and look under "Featured Servers" The Hive should appear there. For more clarification, consider viewing this video that also goes over the process of joining the server:
Overall, this is an amazing server where there is something for everyone. The server is considered one of the best for a reason.