Top 5 FPS Boost Clients For MCPE 1.19+ - Minecraft Bedrock Edition
Here are 5 amazing clients that will work for both 1.18 and 1.19. This is amazing!
#5 Honey Client
This is a simple yet wonderful client. It has a new user interface
DOWNLOAD:
#4 Legends UI Client
By LeGend077
LeGend's UI Pack! It is a UI pack which makes the Vanilla UI better! It adds additional buttons, shortcuts which are toggle-able. It is not compatible with any other UI pack but works with any texture pack. It has a toggle panel. Note: Extra toggles and buttons are only for mobile players. PC players can have some advantage. Let's move to the details of the pack! It is better than my Old UI!You can try it as improves your gameplay a lot.
Details:

Custom Start Screen-

Added a Settings Section for advanced settings

Organized Settings-

And More!

Added Quick Perspective and FOV changer.




HUD Screen -

Added working Clock and Compass.

Compass: It is useful as it shows the re spawn point.
Clock: It can be useful when you're in caves.

Added F1 and F8 buttons.

F1 Button: Hides/Shows all the GUI like Moving buttons and Pause Buttons etc.
F8 Button: Hides/Shows the Paper doll in the left corner which is the small character in the top left.

Added two left and right buttons for hot bar.
DOWNLOAD: https://mcpedl.com/legend-s-ui-pack/
#3 Polar Client
The Polar Client a sick new UI with an artic theme!
DOWNLOAD: https://www.mediafire.com/folder/ol7rtj4g0ypjb/PolarUI
#2 FryBry Client
The YouTuber FryBry has just surpassed 200,000 subscribers on YouTube and to celebrate this milestone FryBry and his team made a Minecraft client for the entire Minecraft Bedrock Edition community. This client enhances the Minecraft Bedrock experience by adding many unique features that improves performance, graphics and the user interface. This client will work on any version of Minecraft Bedrock Edition above the 1.18 Caves and Cliffs Part 2 Update. What makes this client unique is that it is a charity client! (more on that later on in the article)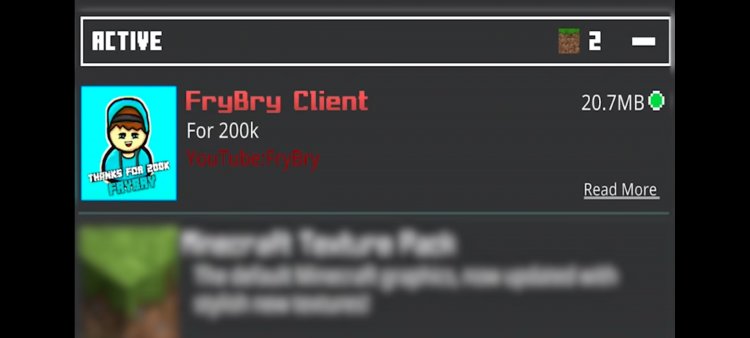 CLIENT FEATURES:
- Keystrokes
- FPS Boost
- Custom Cosmetics
- Built in compass
- New user interface
- Full bright
- Shorter swords
- Highlighted ores
CLIENT HOME SCREEN: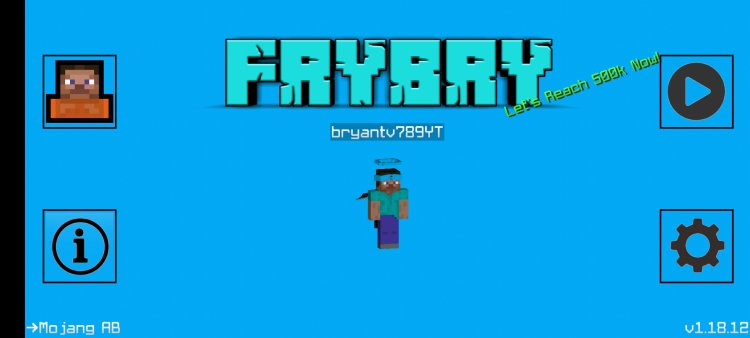 Right after loading in the client you will notice that we have a blue galaxy themed backdrop and a completely rearranged home screen. For starters, all the buttons including the "play" button, the "settings" button, the "information" button and "profile" button. Our player character can be seen in the center of the screen with amazing custom cosmetics. Right above our player character we are able to see text that says "FRYBRY" in a blocky font.
CUSTOM COSMETICS:
The FryBry 200k client is one of the very few clients that includes custom cosmetics. For headgear we have a light blue bandana. Behind the player character we have a custom cape with the FryBry logo on it with a black background and light blue outline. Right next to the cape we also have custom ender dragon themed wings. These wings even have a flapping animation when used in game. Lastly, we have a shield that has incredible detail to it and even a star design in the center of the shield.
DOWNLOAD: https://linkvertise.com/96503/frybry-200k-client/1
#1 Fire Client:
This an amazing client with a fire theme to it
DOWNLOAD: https://www.mediafire.com/file/5rj7tmhqlj2x4j3/Fire_Client_1.0_.mcaddon/file
top 5 fps boost clients for mcpe 1.19,top 5 fps boost clients,mcpe client,mcpe client fps,mcpe client fps boost,mcpe client fps boost 1.19,mcpe client fps boost mobile,mcpe 1.19,minecraft bedrock edition,client mcpe,the best mcpe pvp client,pvp client mcpe,client for mcpe,fps boost mcpe,fps boost mcpe 1.19,mcpe clients,top 5 clients for mcpe 1.18,mobile client mcpe,mobile client,mobile client mcpe 1.19,fps boost,fps boost client,top 5 clients mcpe