Top 5 Survival Addons For MCPE 1.19! - Minecraft Bedrock Edition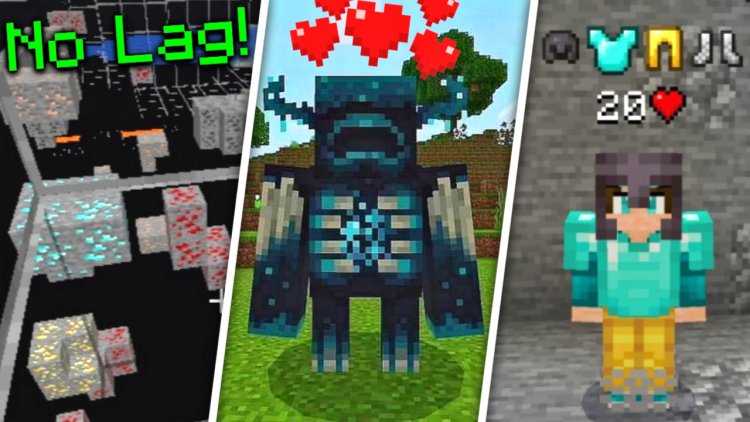 These are 5 amazing survival addons that will make the game far more enjoyable. All the credits can be found in the downloads!
#5 Tamable Warden Addon
Have you ever wanted to keep the warden as a pet? Well now you can, by downloading this add-on, the warden will now be tameable to be kept as a pet! This tameable warden functions like any other pet you can tame in minecraft.
Make sure to activate this pack in the behavior pack settings!
How to tame the warden?
You will need an echo shard to tame it!
Add-on features:
You can make the warden sit and stand after it has been tamed
DOWNLOAD: https://www.mediafire.com/file/9fe8xjfgqhj5thf/Tamable_Warden_%2528mcpack%2529.mcpack/file
#4 More Geodes Addon
By Winniee
Have you ever thought about having an addon with different geodes in your minecraft? This addon will add this, various geodes of different ores to improve exploration and mining of your world.
This addon will add 10 different geodes to your minecraft. They will be found in different layers of the game and each with their specialties, you can find them everywhere with their respective difficulties. Below are the specifics of each geode:
Coal Geode
There are more variations of geodes!
DOWNLOAD: https://linkvertise.com/388311/ore-geodes/1
#3 Craftable OP Structures Addon
By Tilak Gaming
"Craftable Op Structures" This is addon for Minecraft Pocket/Bedrock Edition in this addon you can craft op structures and build them in seconds and these structures consist every valuable stuff like op armours and these structures consist many traps and mobs and they try to kill you and this make game very intresting
This addon has total 10 structure
DOWNLOAD: https://linkvertise.com/424657/craftable-op-structures/1
#2 Weapons And Tools Survival Expansion Addon
Welcome to Weapons and Tools Survival Expansion, with new swords, pickaxes, axes, shovels and hoes for your Minecraft survival worlds. Master new weaponry and find your favorites with unique and original weapons and tools. Acquired from the Workbench, Weapons range from: Daggers, Scythes, Longswords, Combat Shovels, Maces and Longswords find what works for you with many of the weapons having special separate abilities.
DOWNLOADS: https://mcpedl.com/weapons-and-tools-survival-expansion/
#1 Double Jump Addon
By NYANKUN
There are some double jump addons which use levitation.However, vertical speed change the height of jump because of levitation effect.So I made a new double jump addon which no longer use levitation.You can jump with constant height easily!
Hello, I'm NYANKUN.
I introduce my new double jump addon.
This addon make you constant jumping with ease.
DOWNLOAD: https://mcpedl.com/double-jump-addon-no-levitation/