Top 5 3D Texture Packs For MCPE 1.19! - Minecraft Bedrock Edition
Top 5 3D Texture Packs For MCPE 1.19! - Minecraft Bedrock Edition
These are 5 amazing 3D texture packs for MCPE. These textures have dark shadows and nice higlights to them. All credits can be found in the downloads!
#5 Minecraft 3D
By LvzBx
Minecraft 3D Texture Pack is a whole different experience when playing minecraft, it's more beautiful and wholesome. Don't be shy, try it for yourself you won't be disappointed at all. Feel free to share this texture pack with the Linkvertise link.
With this 3D texture pack created by Lvzbx the game will apply 3D blocks that will amaze you. (also known as LvzBx Default Minecraft 3D) Minecraft 3D Pack Images:
3D Ores
3D Items
3D Stones
3D Vegetation
3D Blocks
3D Minecarts
3D Boats
3D Beds
3D Decorative Blocks
DOWNLOAD: https://linkvertise.com/144609/LvzBxDefault3DPack/1
#4 Items 3D
By JEHEZ13L
Te aburriste de que los elementos de Minecraft siempre se ven en 2D. Bueno, este paquete de texturas mejora los elementos al agregar un modelo 3D a la mayoría de los elementos del juego. Actualmente se encuentra en fase Beta.
Download this texture pack to improve Minecraft, what this texture pack does is improve the items by adding a 3D model to most of them.
At the moment it is in Beta phase and it will be updated improving the models and adding more items with 3D model.
Without further ado, enjoy this great texture pack.
These are some items with 3D model.
DOWNLOAD: https://mcpedl.com/items-3d/
#3 Texture Tools Items 3D
Have you ever felt bored with the appearance of equipment just like that? With this texture, you will see a new look of your equipment with a cooler and 3d shape!!
This texture was made by me but not with the model and texture. What was made by pashin I just made the code and converted the model to mcpe!!
Here is some 3d items display for more details on my channel video.
[do not use private links or cut links. Use this website link as a download link. Otherwise, I will report it!!]
-Sword 3d
DOWNLOAD: https://www.mediafire.com/file/yaky1rjqh2ihcuh/IndZy%25273D.mcpack/file
#2 3D Buckets
Hi Minecrafters, are you bored with plain 2D texture? and no animation on it? well there is help now, behold! 3D Buckets!! yes its animated and important is ANIMATED! yes with blinking eyes too!
Empty Bucket
Bucket of Axolotl
Bucket of Puffer Fish
Bucket of Tadpole
Bucket of Salmon
Bucket of Tropical Fish
Bucket of Lava
Bucket of Water
Bucket of Snowpowder
Bucket of Milk
Bucket of Cod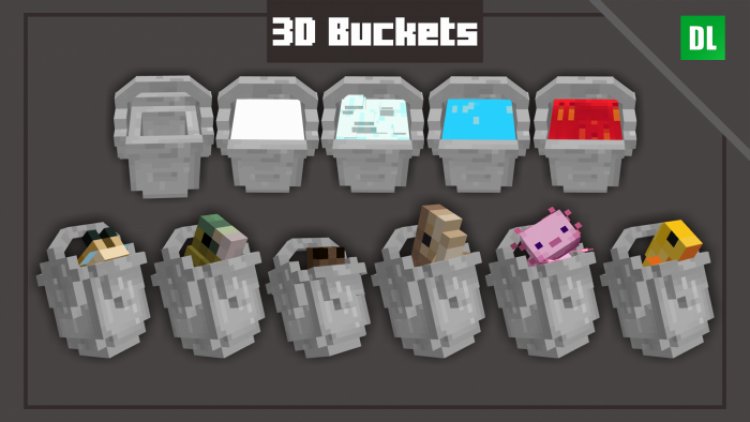 DOWNLOAD: https://linkvertise.com/157554/3d-buckets-v111/1
#1 3D Weapons
This addon adds cool 3D weapons to Minecraft, making you feel cooler when holding them. Currently this Addon only has 5 weapons, but I will update more weapons over time
This addon adds eye-catching 3D weapons to the Minecraft game, and yes, 3D when held in first-person and third-person perspectives, giving the user a sense of confidence when using them. These weapons are mostly uncraftable, however they can be found in random chests in Minecraft. For now this addon will only have 2 3D weapons to start with, we will update more later: